Adimu is Zuberi's former mate, and Mother of Neo.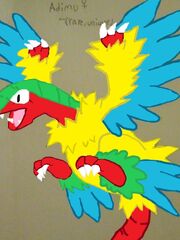 Personality

Edit
For the most part, Adimu is very calm and rarely lets her aggressive nature take over. Due to her blindness, her other senses have been heightened, making her appear more clever than the average archeops. However, it is not difficult to outwit her.
Her name means "rare" in Swahili.